Corporate events hire Magical Balloon-dude Dale because he is a professional entertainer who knows how to interact with business professionals. Dale's balloon twisting skills along with his dynamic personality interject life into any corporate event. Not all entertainment is capable of doing this. Dale has the ability to customize his designs to be a hat, held or worn as a wrist corsage.
Enhance your Meet & Greet Sessions
Wrist corsage or cocktail buddies are perfect for the corporate meet & greet hour. Dale will roam the room socializing with the guest and working his balloon magic. Guest will be amazed at the artistry and detail of the designs making the hospitality hour fun and entertaining.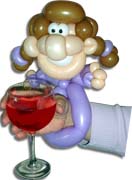 Magical Balloon-dude dale is taking corporate event entertainment and balloon entertainment to a whole nother level. Call him today and learn more about Magical Balloon-dude Dale's corporate event entertainment.