Balloon Show (113KB)
Corporate Entertainer (67KB)
Corporate Events (534KB)
Corporate Picnic Entertainment (430K)
On-Premise Promotions (42KB)
Grand Openings / Product Rollouts (120KB)
Corporate Holiday Party Entertainment (1.08MB)
Private Events (152KB)
Birthday Party (644KB)
Restaurant Entertainment (115KB)
Balloon Decorating (Columns, Arches, Sculptures) (192KB)
Balloon Entertainer available
for corporate & private events.
Balloon entertainment is not only entertaining, but it is addictive to watch. You will be amazed on how a balloon can go form nothing to this really astonishing balloon animal in minutes.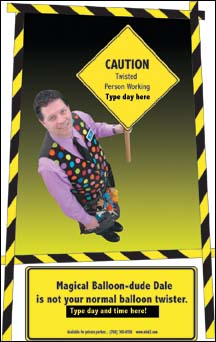 Promotional Poster (2.79 MB)
Download this high resolution PDF file and edit caution sign and bottom sign with event day and time. Save and brinig to your local printer or Kinko's for high-quality 11x17 promotional posters.