Balloon Entertainment
People turn to Dale when they need a family-friendly show that wows the audience and makes management happy. Our goal is to provide the highest quality entertainment to families and businesses resulting in excellent audience experience.
Balloon Entertainment Services
Private Parties- Balloon Artist
Bring fun and laughter to your party while knowing that behind every twist and joke is a veteran balloon artist, ensuring that no unexpected pops will deflate the party.
"Dale - I am so thankful that you were a part of my daughter's birthday celebration. Your balloon creations are one-of-a-kind. I've never seen so many unique designs. This combined with your great personality puts you over the top".
Corporate Entertainment
Transform a mundane event or awards banquet into a colorful, artistic, and hilarious experience that your audience will not forget. Bring excellent entertainment to your audience that fits your corporate needs.  
"Dale was outstanding and exceeded my expectations by far!" Urschel Laboratories, Inc
School Assemblies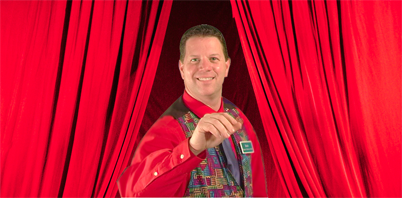 School Assembly program focused on school, PTO, and student needs. Excellent shows from Character Count to fun year-ending events.
"The show was educational, the teachers and kids loved the message, and the interaction with the audience was outstanding."
Speaker & Workshops
Get TEDx speaker talking to your group and have them laughing, learning, and improving their lives. A qualified speaker is a short click away from appearing on your stage.
"Dale combines a highly entertaining presentation with valuable professional information." – Jan Bednarz, Robert Morris University
Restaurant Entertainment
Kids dictate where parents eat.  When the kids are happy, and the food and service are right, the parents dining experience is heightened – Dale gives them a reason to return and recommend your restaurant.
Call for a special no-risk, no-obligation discussion on how to bring restaurant entertainment to your restaurant :
Call...708-744-0234 and ask for Dale.
Ask me how I learned my skills?
I'll tell you, "from a bunch of twisted people."
While attending the college I met a group of professional entertainers, which met Mondays to practice in the gym. Always wanting to learn how to juggle, I joined this merry group.
I learned from world-class jugglers, unicyclists, magicians, clowns, balloonists, fire-eaters, theatrical entertainers, and vaudevillians.
I did not realize at the time how lucky I was to be practicing with such talented people and the skills and techniques that were freely teaching to me.
I have used all my entertainment skills over the years, but have decided I would rather be a Master of one form of entertainment, than a jack-of-all-trades. So I became a master balloonist.
We all have a beginning.and that's how I stared my career in 1989.