Vests for St. Patrick's Day - size: S, M, L, XL
Four bottoms with adjustable straps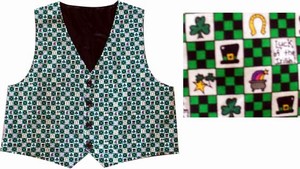 ---
Wearing of the green is just not for the Irish. St. Patrick's Day is a day to celebrate, so look festive in your St. Patrick's Day Vest.
| | |
| --- | --- |
| | The Wearing O' The Green |
The official color is green, but clovers (Shamrocks) and Leprechauns are traditionally associated with St. Patrick's Day
Here are some ideas on why green has been associated with St. Patrick's Day.
The song by the title "The Wearing of The Green" was written by a Dubliner, Dion Boucicault (1820-1890). After America's revolution, the Irish thought it was time for their own independence. The color green became a symbol of sympathy for Irish independence and the British actually began executing persons found wearing anything green.
The song Wearing of the Green was made because Irish people would burn the color red because they hated England so British soldiers would shoot people wearing the color green.
"The wearing of the green" refers to the Irish green plaid on kilts and other items of clothing. The English considered this a sign of active nationalism or separatism and, in the eighteenth and nineteenth centuries, methods of stopping that were simple. The attitude was, "If you are wearing the green, you are siding with the troublemakers, disturbing the equilibrium of our landowners and governors, ie., you are a terrorist and shall be dealt with".
"The Wearing of the Green" were written to relate the British practice of hanging any Irishman/woman who wore green in a patriotic manner during a certain Irish rebellion.
| | |
| --- | --- |
| | St. Patrick's Day Entertainment |

What to make your St. Patrick's Day event out standing? Then you need to have the best St. Patrick's Day balloon entertainer in the country!

Why not hire the best balloon twister, who will make some of the coolest, oh my gosh balloons you can imagine. Your guests will be amazed, mystified, entertained, and will not be able to stop talking about their evening with Chicago's Best St. Patrick's Day balloonist!

Call today to book him for you St. Patrick's Day Party.

(708) 744-0234

Mardi Gras | St. Patrick's Day | All about Easter | Balloon Show
Copyright © 2002-2020 DEO Consulting, Inc.
| | |
| --- | --- |
| | Vests for Patrick's Day |
St. Patrick's Day vests are the easiest way to dress up for St. Patrick's Day. Just slip it over a white shirt and away you go.
St. Patrick's Day vest are great for the entertainers who need to look professional and be comfortable while entertaining.
| | |
| --- | --- |
| | The History of St. Patrick's Day |
St. Patrick's Day is celebrated on March 17, this religious feast day and the anniversary of St. Patrick's death in the fifth century. The Irish have observed this day as a religious holiday for thousands of years. On St. Patrick's Day, which falls during the Christian season of Lent, Irish families would traditionally attend church in the morning and celebrate in the afternoon. Lenten prohibitions against the consumption of meat were waived and people would dance, drink, and feast—on the traditional meal of Irish bacon and cabbage.
| | |
| --- | --- |
| | Leprechauns |
Leprechauns are called fairy cobblers, for they make shoes for elves (but always one shoe, never a pair). They are seen by humans and are described as merry little fellows gaily dressed in old-fashioned clothes; green, with a red cap, leather apron, and buckled shoes.
Leprechauns who live in farmhouses or wine cellars. They are known to aid humans and perform small labors for them. The average height of a Leprechaun is two feet tall.
According to popular belief, a leprechaun possesses a treasure (usually a pot of gold) which a human may obtain if he succeeds in capturing one, which is extremely difficult. Even after capture, a person may not take his eyes off of him for an instant, for then he will vanish. Leprechauns are mainly found in Irish folklore.
| | |
| --- | --- |
| | About the Author |
Magical Balloon-dude Dale is not your normal dog-making, heart-giving, sword-handing, balloon animal-making entertainer. His balloons are the coolest, eye-popping, oh my gosh - look at that balloon, you will ever see. This corporate entertainer creates latex art that will have people talking. Dale has been entertaining for over 20 years, and has worked with corporations to entertain at their corporate functions, private events, and fundraiser's. Dale's quick wit comedy is clean, fun, and his twisting skills are unbelievable.
| | |
| --- | --- |
| | -3991 days until St. Patrick's Day |