Trade show entertainer and traffic booster Magical Balloon-dude Dale is an experienced professional trade show traffic booster who draws crowds, disseminates information while entertaining and creating the most unique balloon art giveaways that will make your booth fun, exciting, and the talk of the trade show.
Increasing trade show traffic is an art which requires a professional and enthusiastic entertainer like Dale. He understands the importance of professionally representing the exhibitor, ensuring his language, appearance and salesmanship are geared specifically to his client's specific trade show needs. Dale's traffic boosting knowledge will help you gather crowds to your booth. Exhibitors will be amazed by Dale's balloon artistry and always so overwhelmed with his salesmanship and personality that they will question, "Do you work for the company?"
Hire a qualified trade show booster, Magical Balloon-dude Dale for your exhibit booth. He will bring excitement, energy, salesmanship, professionalism, and have the attendees and vendors asking? "Where did you get this guy? He's great!" Dale is so energetic and enjoyable that you will want to hire him for events at your hospitality suite and corporate parties.
Hire a Professional Trade Show
Traffic Booster!
Call today (708) 744-0234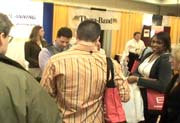 WARNING: The possession of Magical Balloon-dude Dale's balloon creations will produce excellent comments from your peers. Be prepared - accolades are coming!