PRESS RELEASE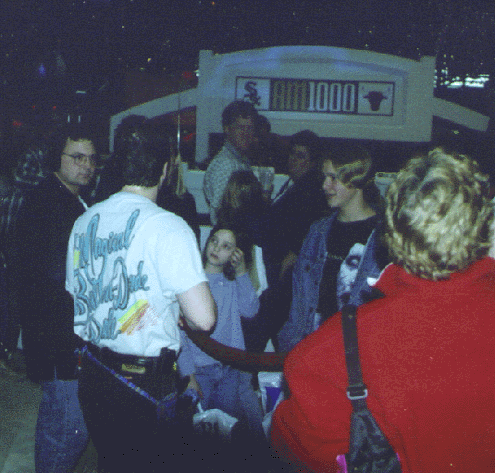 5424 Vine Street
Oak Forest, IL 60452-1239
FOR MORE INFORMATION, CONTACT:
Magical Balloon-dude Dale
Tel: (708) 760-6558
Fax: (708) 687-6922
Web: http://www.mbd2.com
E-mail: gdobro@govst.edu
FOR IMMEDIATE RELEASE
Dale Blows Away Autoshow
Oak Forest, IL, February 16, 1998--Magical Balloon-dude Dale was spotted at the 1998 Autoshow. Under the watchful eye of Steve Cochran AM1000 morning personality, Dale made Cochrans listing audience Chicago Bulls Horns. "I cranked through two gross of balloons in an 1½ hours and people were still mobbing me" says Dale.
If you were there, you may have seen him at the Chevrolet exhibit surrounded by a swarm of people. Somehow among all those people Magical Balloon-dude Dale gave a personal interview with Steve Cochran. In the interview Dale was able to promote his web site and ballooning business to the radio listeners. "We love having Dale come to our live show. His ballooning is always a hit with the listeners" says Steve Grundwall, producer of the morning show. Who knows where Magical Balloon-dude Dale will pop up next, his unexpected appearance always draws large crowds.
The dude appears regularly at the Evergreen Park Aurelio's Friday nights, Crete Aurelio's Saturday nights, and Homewood Aurelio's Sunday nights, between the hours of 6:00-8:00 p.m. Saturday nights he performs at Rock-N-Country Nights in Lemont, from 10:00-Midnight.
Magical Balloon-dude Dale's 100 year mission is to become the best Balloon Entertainer in the Chicagoland area... whether it kills him or not.
Magical Balloon-dude Dale is a Master Balloonist; this balloon entertainer is not your normal dog-making, heart-giving, sword-handing, balloon animal-making entertainer. This corporate entertainer creates latex art that will have people talking. A mix of balloon art along with comedy creates a fun-filled atmosphere that families go crazy over, making for the best corporate party entertainment. This Balloon Twister has entertained at numerous corporate and private events and is available for your next corporate event.
# # #