PRESS RELEASE
FOR IMMEDIATE RELEASE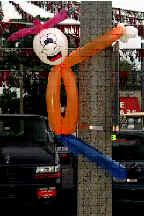 5424 Vine Street

Oak Forest, IL 60452

FOR MORE INFORMATION, CONTACT:

Tel.: (708) 760-6558

Fax: (708) 687-6922

E-Mail: gdobro@govst.edu
FOR IMMEDIATE RELEASE
Local Aurelio's & Magical Balloon-dude Dale Go World Wide!
Oak Forest, IL, October 31,1997—Aurelio's of Evergreen Park and Crete have joined Magical Balloon-dude Dale's web site. Evergreen and Crete Aurelio's will be promoting their new web address in local newspapers and flyers. The restaurants site offers an overview of the Aurelio's color photograph menu, discount coupon that can be printed directly from your printer, restaurants' location and phone number, along with a list of days that the Magical Balloon-dude Dale appears at these restaurants.
"You will be able to find these sites by typing in the word Aurelio's and finding their sites" says Webmaster Dale. These sites will be registered with over 500 restaurant/business search engines. Making these web sites one of the easiest to find for the best pizza in town. For direct access to the Evergreen Park Aurelio's http://www.mbd2.com/evergreenaurelios.htm and for the Crete Aurelio's http://www.mbd2.com/creteaurelios.htm — Included is a direct link from Magical Balloon-dude Dale's friendly link menu directly into the Aurelio's sites, creating a massive world wide advertising program for the local restaurants.
Magical Balloon-dude Dale's web site http://www.mbd2.com was first implemented in February 1997, and is presently 47 pages. Including numerous color photographs of twisted balloon art, decorating sculptures, news, biographies, latex hazards and much more.
Magical Balloon-dude Dale is a Master Balloonist; this balloon entertainer is not your normal dog-making, heart-giving, sword-handing, balloon animal-making entertainer. This corporate entertainer creates latex art that will have people talking. A mix of balloon art along with comedy creates a fun-filled atmosphere that families go crazy over, making for the best corporate party entertainment. This Balloon Twister has entertained at numerous corporate and private events and is available for your next corporate event.
# # #