>
Ala Carte Entertainment
(773) 774-9111 6666 N Oliphant Ave
Chicago, IL

Ambassador West
(312) 787-3700 1300 N State Pkwy
Chicago, IL

Blackies
(312) 786-1161 755 S Clark St
Chicago, IL

Blue Sky Restaurant
(773) 247-8660 4807 S Pulaski Rd
Chicago, IL

Chicago Fine Arts Exchange
(312) 850-2787 815 W Chicago Ave
Chicago, IL

Chicago Historical Society
(312) 642-4600 1601 N Clark St
Chicago, IL

Days Inn
(773) 525-7010 644 W Diversey Pkwy
Chicago, IL

Dewes Mansion
(773) 477-3075 503 W Wrightwood Ave
Chicago, IL

Embassy Suites Hotel
(312) 943-3800 600 N State St
Chicago, IL

Emilio's Sol Y Nieve
(312) 467-7177 215 E Ohio St
Chicago, IL

Four Points Sheration Midway
(773) 581-5300 7353 S Cicero Ave
Chicago, IL

Gino's East Of Chicago
(312) 943-1124 633 N Wells St
Chicago, IL

Gloria's
(773) 238-7802 8528 S Ashland Ave
Chicago, IL

Holiday Inn
(312) 957-9100 506 W Harrison St
Chicago, IL

Hotel Inter-Continental
(312) 944-4100 505 N Michigan Ave
Chicago, IL

Joey Buona's Pizzeria
(312) 943-3337 160 E Superior St
Chicago, IL

Jolly Inn Restaurant & Banquet
(773) 736-7606 6501 W Irving Park Rd
Chicago, IL

Lawry's Prime Rib
(312) 787-5000 100 E Ontario St
Chicago, IL

Le Meridien
(312) 645-1500 520 N Michigan Ave
Chicago, IL

Lido
(773) 763-1408 5504 N Milwaukee Ave
Chicago, IL

Mr D's Villa
(773) 374-6089 10468 S Indianapolis Ave
Chicago, IL

Mr G's
(773) 445-2020 1547 W 87th St
Chicago, IL

New Furama Restaurant
(312) 225-6888 2828 S Wentworth Ave Fl 2
Chicago, IL

No Mi Restaurant
(312) 239-4030 800 N Michigan Ave Fl 7
Chicago, IL

Orbit Restaurant & Lounge
(773) 276-1355 2948 N Milwaukee Ave # 54
Chicago, IL

Orso's Restaurant
(312) 787-6604 1401 N Wells St
Chicago, IL

Palermo Italian Restaurant
(773) 585-5002 3751 W 63rd St
Chicago, IL

Palmer House Conference Center
(312) 726-7500 17 E Monroe St
Chicago, IL

Rock Bottom Brewery
(312) 755-9339 1 W Grand Ave
Chicago, IL

Royalty Banquet Hall
(773) 735-4415 3810 W 63rd St
Chicago, IL

Sin Fronteras
(312) 738-0200 741 S Western Ave
Chicago, IL

Sofitel Hotel
(312) 324-4000 20 E Chestnut St
Chicago, IL

Trattoria Gianni
(312) 266-1976 1711 N Halsted St
Chicago, IL

Turner Bowl
(773) 637-6654 6625 W Belmont Ave
Chicago, IL

Uswa Local 5544
(773) 734-5445 9350 S South Chicago Ave
Chicago, IL

W Hotels Chicago
(312) 332-1200 172 W Adams St
Chicago, IL

Westin Hotels Of Chicago
(312) 943-7200 909 N Michigan Ave
Chicago, IL




WHEN YOU KNOW WHERE TO LOOK,
YOU DON'T HAVE TO SEARCH.
MBD2.COM
He's Fantastic! Dale was easy going, worked the crowd, made people laugh, and does amazing balloon work. Our tenants all had great things to say and were amazed with Dale's creations.
- Zeller Reality Group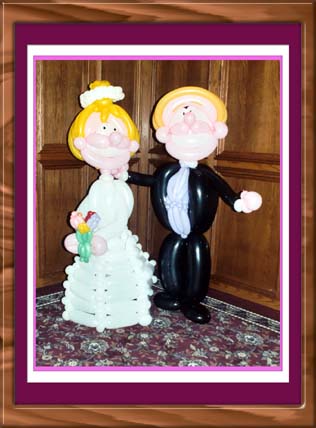 The wedding reception is the finale to a special day and having the right wedding entertainment is mandatory. Magical Balloon-dude Dale understands that this event is the most special day in your life and prompt, professional wedding entertainment is required.
Call Dale today (708) 744-0234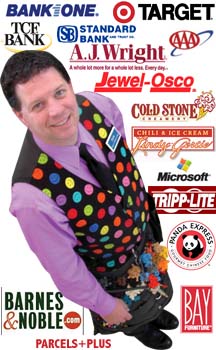 Chicago's best trade show talent, Magical Balloon-dude Dale will gather crowds, get your message heard, sign people up, and entertainer perspective customers.