Adobe Photoshop 6.0 Web Photo Gallery / DCP_0243

11/19/2002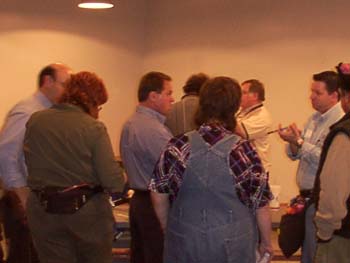 I'm in the left corner talking about the new white markers.
In the picture is (left to right)
Bob Hirsch, Pam Brett, Ernsberger, Marty Hankus, Paul Bachman, Me, and just off the picture is Dave Evans.
What's a Balloon Jam you ask? A Balloon Jam is where balloon entertainers, beginner, intermediate, and advanced twisters, get together and share ideas, designs, and contacts. These balloon jams have been sponsored by Balloon Twister, Magical Balloon-dude Dale
- - - -
Magical Balloon-dude Dale is a Master Balloonist; this balloon entertainer is not your normal dog-making, heart-giving, sword-handing, balloon animal-making entertainer. This corporate entertainer creates latex art that will have people talking. Magical Balloon-dude Dale mixes art with comedy to create a fun filled atmosphere that adults will be crazy over.
More information on:
- - - -