mbd2.com Balloon Jam 2 / 25
Photographer: Leticia Gonzalez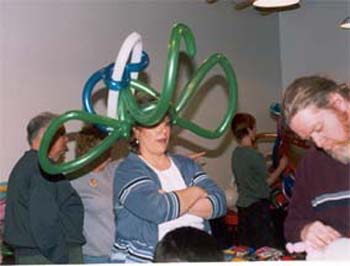 Baseball cap on an Elephant hat? This was taking during the twisting contest.
I can tell that Mike Small (right corner) is working on his balloon figure of a man.
What's a Balloon Jam you ask? A Balloon Jam is where balloon entertainers, beginner, intermediate, and advanced twisters, get together and share ideas, designs, and contacts. These balloon jams have been sponsored by Balloon Twister, Magical Balloon-dude Dale
- - - -
Magical Balloon-dude Dale is a Master Balloonist; this balloon entertainer is not your normal dog-making, heart-giving, sword-handing, balloon animal-making entertainer. This corporate entertainer creates latex art that will have people talking. Magical Balloon-dude Dale mixes art with comedy to create a fun filled atmosphere that adults will be crazy over.
More information on:
- - - -